Pride and being humbled.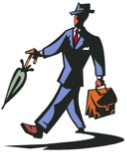 Sir John Upton was an esquire, though the title was unearned. He wasn't English and he had no hope to be a knight or nobleman. But he felt worthy of the titles "Sir" and "Esquire," and he added them to his name whenever he wrote it. He practiced—or rather, ruled—law from the Trinitarian pinnacle of the firm, Esquire, Esquire, and Esquire. The name gave proud recognition to his father, himself, and his son, who was actually still in middle school.
Sir John—or if you were not well acquainted, it was, "Sir John Uptown, Esquire, Sir"—stepped out of his office, which some mistook as a palace, pranced by the rows of secretaries, who stiffened with respect as he passed, and reluctantly skittered through the client waiting room. One plaintiff drooped over the arm of a chair, but Sir John offered only a slight glance, for to do more would consume energy and dignity. Sir John swung open the oak paneled door and ventured into the less dignified hallways and elevators of the Interstate Bank Building.
Riding the elevators was a troublesome task, having to stand as if an equal beside people who obviously did not share his standards. Some of the people genuinely smelled, which felt to him all the worse because the building authorities had once callously rejected his insistence on a private elevator. This especially stung because he had grown richer than any of them. He had always been careful to extract every charge, bill, payment, and fee from each adoring client—and from each opponent who lost to his superiority. If he didn't purchase his own building, he would start his own bank to keep all the money that was rightfully his.
Thus was his burden in life: forever forced to insist on the admiration and wealth that he naturally deserved. But he held out hope that Esquire, Esquire, and Esquire would someday relegate all the unconvinced to their proper place of humility and respect.
He held his nose high as the elevator opened on the main floor and freed him from confinement among the commoners. But now he navigated past even less dignified riffraff as he neared the entrance to the street. He paused at the front desk to verify that his limousine would stop in front of the building to spare him the two-block walk to the Metropolitan Club, where he would discuss business with worthy patrons.
The limousine stopped and duly waited. He turned to strut toward the giant glass doors, when a young woman pushed her way in, pulling a small boy behind her.
Sir John made sure to clear them by several feet, when a tug by the mother met a reverse tug by the boy. This act of opposing forces sent the contents in his other hand onto the polished terrazzo floor.
Marbles.
The treacherous little spheres scattered. Not many, but enough to find their way under Sir John's shiny shoes.
Since Sir John had the dignity never to look down, his shoes met the marbles without resistance. How many he met he never knew, for his feet felt suddenly airborne. The terrazzo was not soft, and his head felt not good, as he cracked his dignified self, bone by bone, onto the cruel floor.
The great Sir John Uptown, Esquire, Sir, ruler of Esquire, Esquire, and Esquire, lay sprawled and broken on the floor, felled by a child's marbles.
At first John knew that no one would go near him, for he was so dignified. But as he lay there, he wondered if his dignity could be seen.
He did not understand when he heard a whisper, "It might be good for Sir John to stay there a while on the floor. It could give him a much better view of heaven."
For Thought and Discussion
Has anything caused you to lose your pride and be "flat on the floor"? If so, how did such an experience cause you to get a "better view of heaven"? As you are now, how might you benefit by falling flat and getting a better view of heaven?
Jesus said in three different situations, "Everyone who exalts himself will be humbled, and he who humbles himself will be exalted" (Luke 14:11; 18:14; Matthew 23:12). Why do you think this injunction is repeated? What does it say about Jesus and the Kingdom of God? Think about this a while.
What do you learn from the story of King Nebuchadnezzar in Daniel 4?