Never Too Old to Chase Your Dreams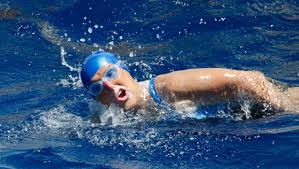 Diana Nyad just swam 110 miles from Cuba to Florida. She spent three days and two nights swimming at sea. She's 64 years old.
At a point where most people are preparing to flop into retirement, this person is being superhuman.
After staggering onto the beach at Key West, she had three things to say. When someone achieves what she did, I listen. I hope you do too:
"One is we should never ever give up."
"Two is you're never too old to chase your dreams."
"Three it it looks like a solitary sport, but it's a team."
Others have done the swim but never without a shark cage. She is the first. So not only does she have astonishing vision, discipline, and endurance, she also has a lot of courage. The jellyfish were also a constant threat, along with the cold water. She previously attempted the feat four times. This, the fifth attempt, was her last. And she did it.
A coach at the Pasadena, CA, aquatics center where she trains said, "She trains nonstop, like a beast. She's amazing."
Put all that together and think about the three things she said. How do they apply in your life?
God did not create us to be mediocre, follow the crowd, or lollygag our way through life.
What dream do you have to chase? Have you decided not to give up? Do you have friends and family to support you?
—
Photo credit:   CBSnews.com