George Bush Sr. Knows How to Live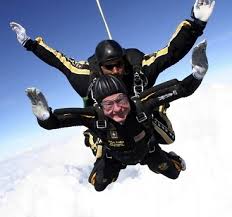 George Bush Sr. knows how to live before he dies.
For his 90th birthday he jumped out of a helicopter, went skydiving. At 90. I like this guy.
So many people try to live safe lives, or they live in fear of anything outside their comfort zone. And they never live well–whether in the face of eternal reality or of their own earthly mortality.
Bush went skydiving on his 75th, 80th, and 85th birthdays as well. Whether he makes it to 95 to continue the pattern remains to be seen. But even if he doesn't, he's living. As opposed to merely existing.
I'm not into skydiving, but this guy inspires me to do more to live beyond the mundane. I sometimes think I don't have enough time or money to do crazy, fun stuff. Maybe I've been lax. I want to live before I die.
It doesn't have to be fun stuff. Giving sacrificially or doing great things for others and making a difference in their lives is even more important. Anything that takes us beyond ourselves. Beyond our comfortable here and now.
What would you do?
—
Photo credit:  travelingboy.com